Current events dictate that the political system in the U.S. is beyond broken. Hillary Clinton is a great example.
Hillary Clinton is a liar. And under the rules of the law, a criminal. But, apparently, that's none of my business.
In case you've been dead the last six months, this is what you've missed…or not. During 2015, Hillary Clinton used her personal email account to correspond with business colleagues. This ordinarily wouldn't be a breaking of procedure, except at the time she was (still is) the Secretary of State for the U.S. government. Meaning, she had an abundance of classified emails going through her personal email account, which is a big bozo no-no. When made aware of these concerns, Mrs. Clinton denied (Surprise!) she had done anything remotely wrong. An investigation ensued, and low and behold, 113 different emails had classified material within. To be fair, only 65 were outwardly marked as "SECRET", while only 22 emails had "TOP SECRET" printed somewhere on the document. I mean, it's not like EVERY SINGLE EMAIL had TOP SECRET written all over it. Who has time to see if a document is classified or not. I'm busy, dang it!. See, she had no id–, wait, whaaaat? Nearly, 2,100 emails were retroactively marked as classified on her server.
How did this all come about? In December 2012, near the end of Clinton's tenure as Secretary of State, a nonprofit group called Citizens for Responsibility and Ethics in Washington, or CREW, filed an FOIA request seeking records about her email. The response they received was "no records responsive to your request were located." This set off a brouhaha, ending with a hacker named Guccifer (can't make this up) illegally accessing Sidney Blumenthal's emails where a treasure trove of Clinton classified emails existed. The most damning emails concerned the death of Americans in Benghazi, Libya, in which terrorist stormed the American embassy. In March 2015, the NY Times broke the story that Clinton had used here personal email account to send classified emails to non-classified personnel.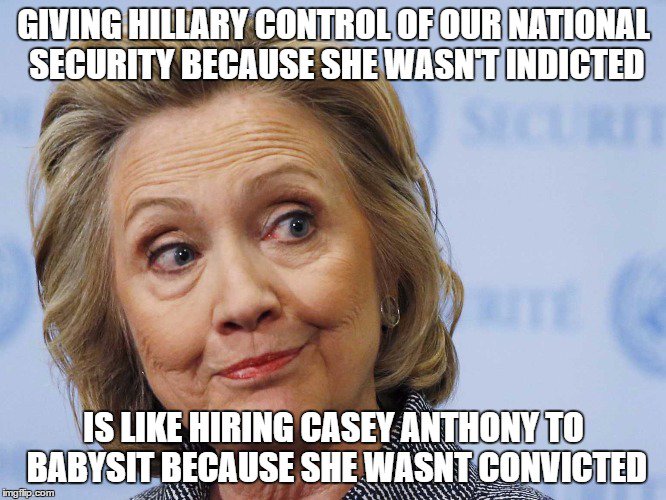 Cue the investigation by the government. Blah, Blah, Blah, she has denied any wrong doing. The Inspector General disagreed, saying she was complicit in sending the emails and not cooperating with investigators.
The F.B.I., not to be outdone, got its own investigation going and In a stroke of political genius, Director Cromey announced that Hillary was not guilty of any crime, but was "extremely careless" in her handling of said emails. In an amazing coinkydink, former President Bill Clinton "ran" into Attorney General Loretta Lynch at Sky Harbor Airport in Phoenix just before Comey announced his ineptness decision. Soon after, Lynch announced that she would roll with whatever the F.B.I. delivered.
Shenanigans have been a part of politics since wooden teeth. Don't mistake this for shenanigans. This is flat out corruption.
And this is why we are dying.